Trade Assurance
( For Alibaba Buyer )
Place order online and pay to the designated bank account to get full protection.

Payment protection

On-time shipment

Product quality protection
Quick Details
Surface Treatment: Galvanized Galvanized Technique: Hot Dipped Galvanized Type: woven wire
Function: Baling Wire, binding wire or Weaving wire Wire Gauge: 0.2mm --- 4.5mm Color: silver
Material: Q195 low carbon steel wire Zinc coating: 40--230g/m2 Tensile strength: 400--700Mpa
Surface: shine and smooth , no rust Coil weight: 100kg , 500kg
Packing: inside plastic film outside plastic bag or hessian cloth
Packaging & Delivery
Hot dipped galvanized iron wire is made by Q195 low carbon steel wire . Main process is wire drawing , achid washing , rust removing , annealing , zinc coaing , coiling and packing . Mainly used in construction , handocraft , woven wire mesh , express way fencing mesh , packaging of products and other daily uses .
Specifications:
1 . Mateiral : Q195 Low Carbon Steel Wire
2 . Zinc coating : 40-230g/m2
3 . Tensile strength : 400-700Mpa
4 . Elongation : 15%
5 . Coil weight : 100kg 500kg

Features :
1. Excellent flexibility and softness
2. Suitable usage : Net making , winding , baling , hanging and so on .

Raw material
Q195 wire rod---this type of wire rod has less impurities so it very suit for drawing. Q195 material's chemical component is nearly same as SAE1008 and SAE 1006. Q195 material chemical component :
C≤0.07; S≤0.023; Si≤0.09; Mn≤0.32; P≤0.025.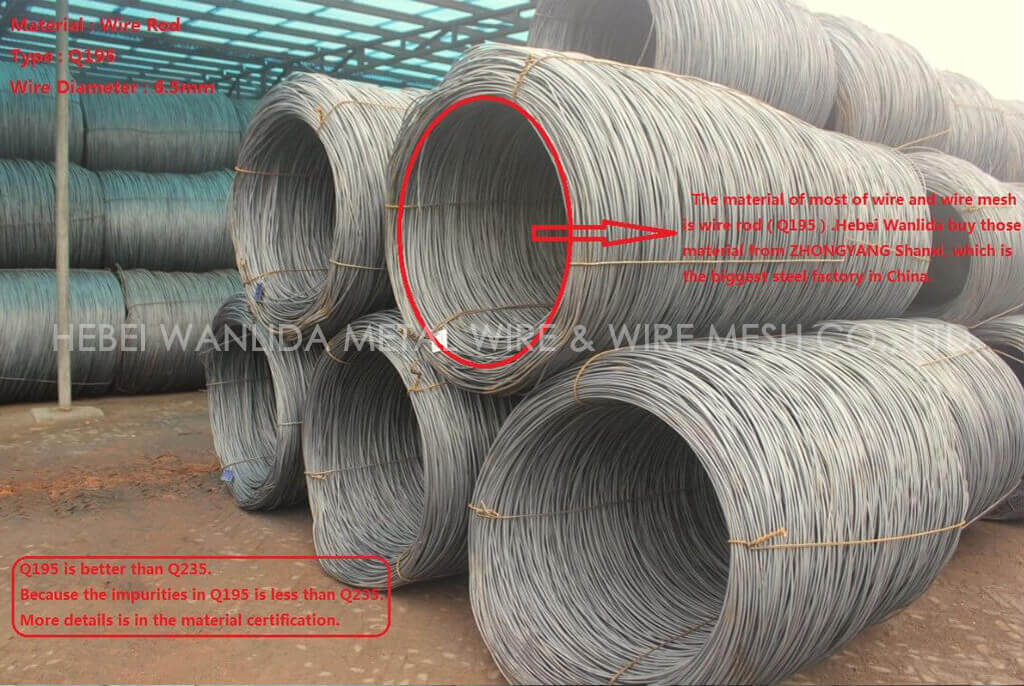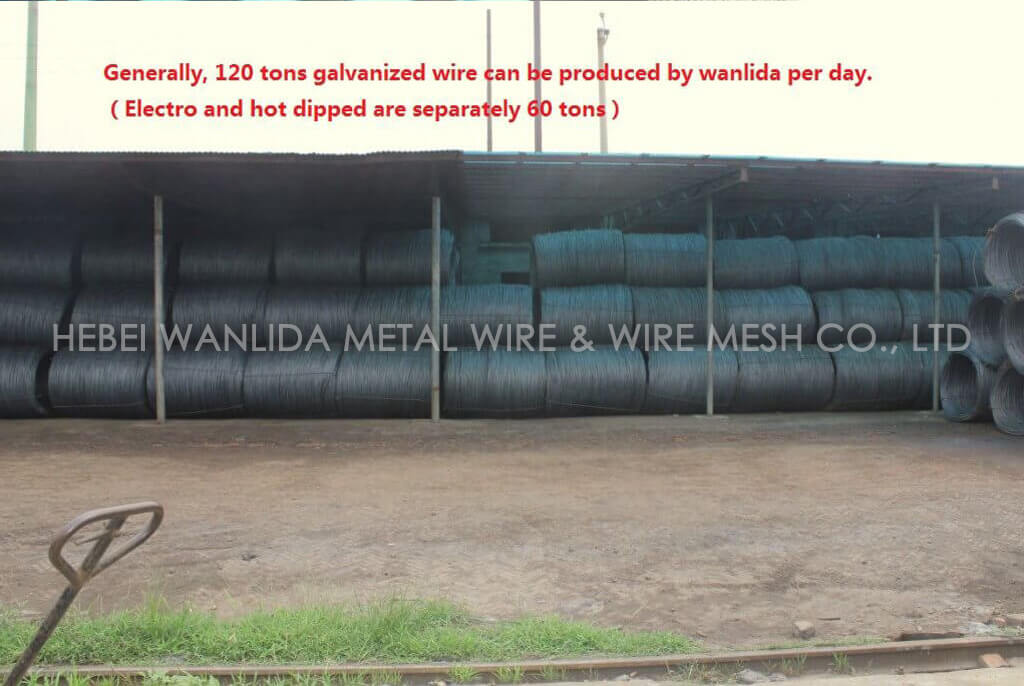 Galvanized wire's first stage is drawing.
there are two kinds of drawing machine: powder drawing and water drawing. powder drawing is fit for junior drawing(6.5mm~4.0mm). One powder drawing machine has 4 tanks and 4 molds. One tank is matched with a mold. Each of them are offered energy by a electromotor. 0.9mm(max)can be "eat" when the wire cross a mold. There are no loss of weight during drawing.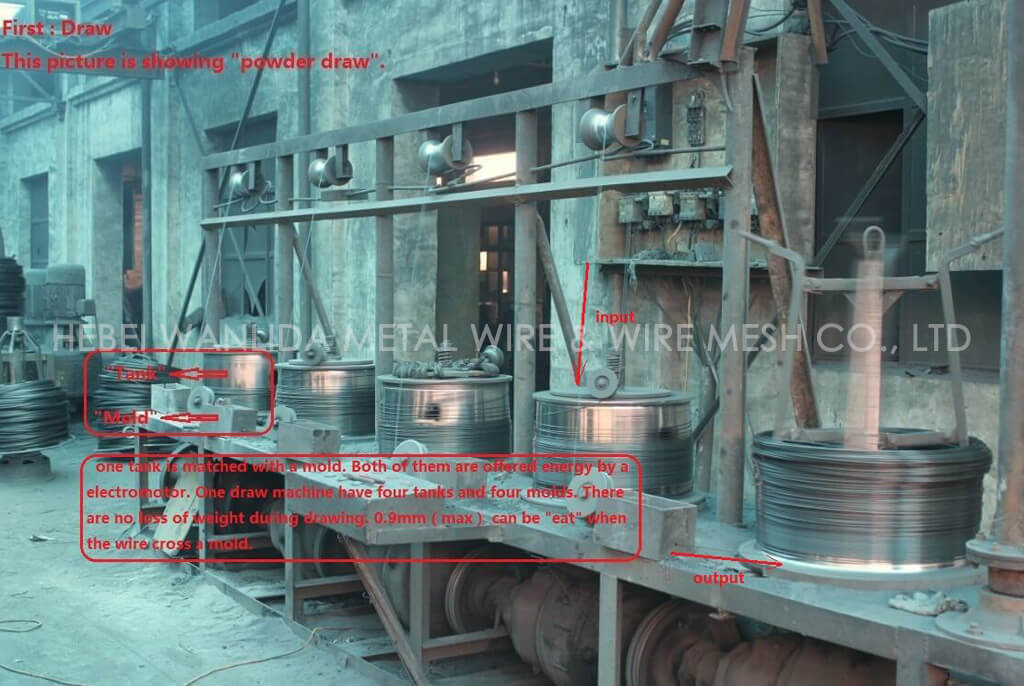 The powder is used as lubricant, which is made of soap and butter. The mold is hidden behind the powder.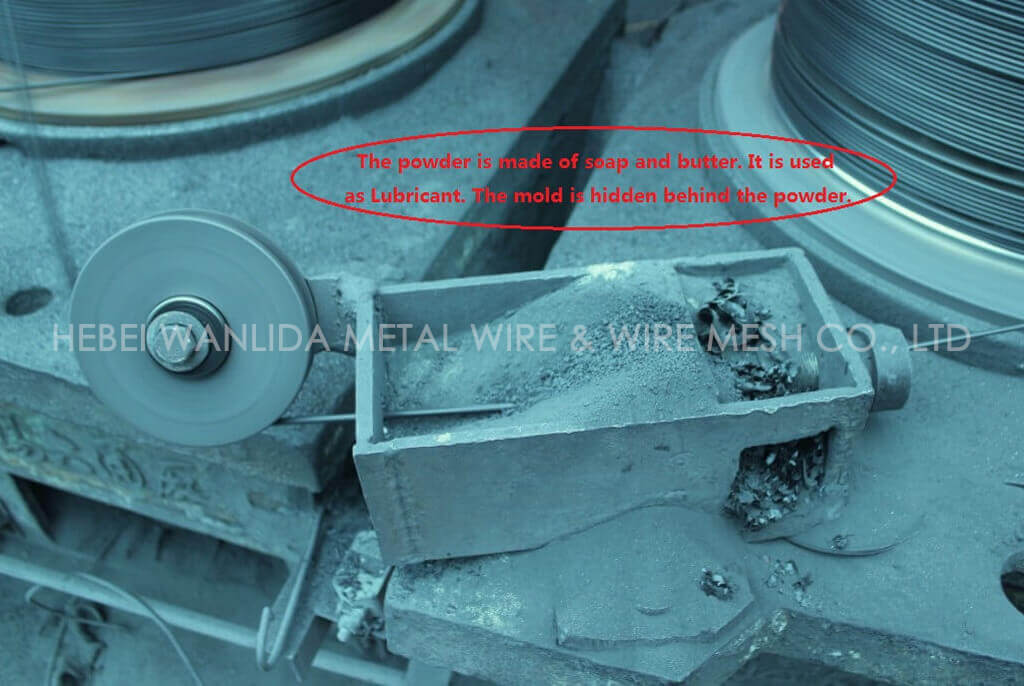 Different mold can "eat" different wire diameter. The mold in picture "eat" 0.6mm.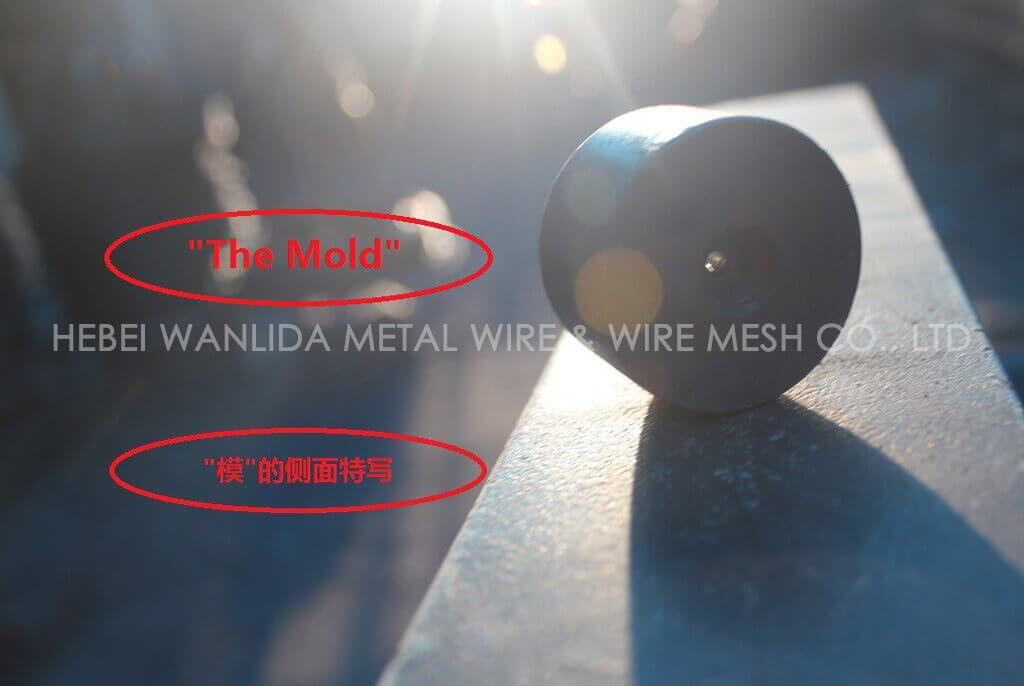 After drawing, the wire is thinner, but also very hard. The tensile strength is about 700N. These wire can be used to produce nail and mesh panel. For galvanized wire, it still need annealing.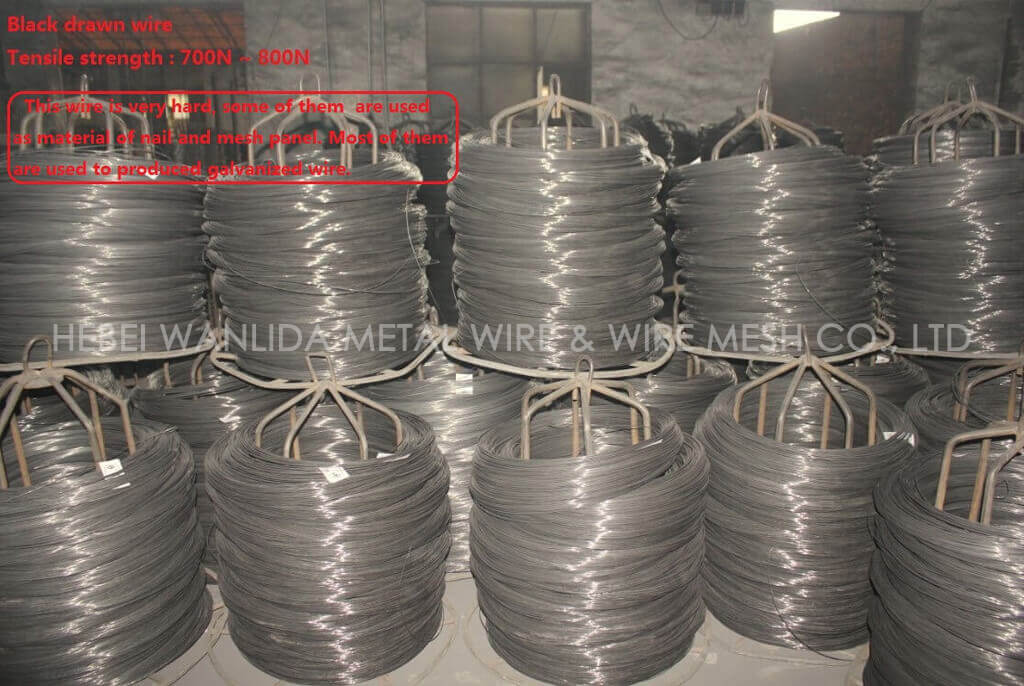 Galvanized wire's second stage is anneal.
Anneal is to low the tensile strength of wire. The stove is solid and built with red bricks. The architecture of anneal stove is cuboid. Different thickness of wire require different temperature. Range is from 700℃ to 900℃. Output of the anneal stove, the tensile strength is 400N~500N.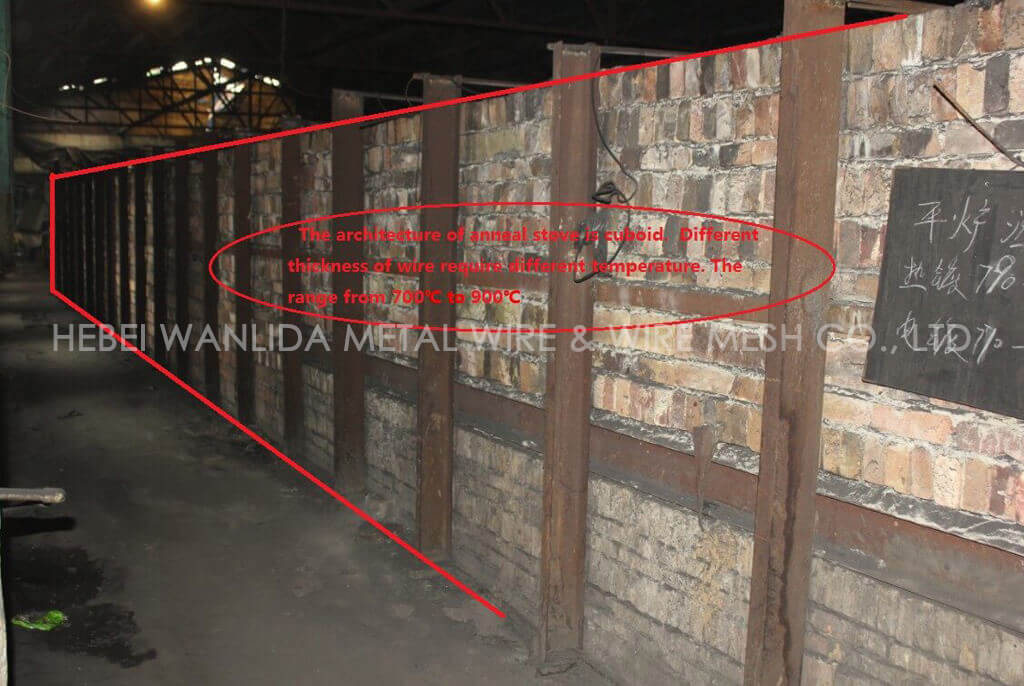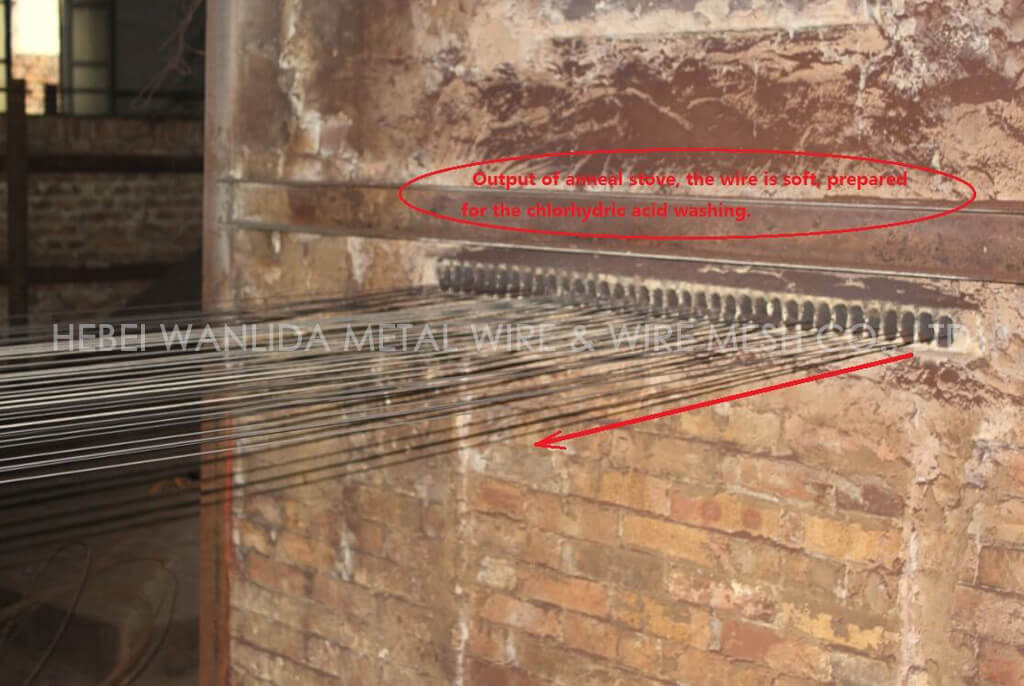 Galvanized wire's third stage is chlorhydric acid washing.
After the draw and anneal, the wire is thinner, softer but also much more dirty. It needs chlorhydric acid washing to remove the impurities. Chlorhydric acid washing requires water pool and chlorhydric acid pool. The density of chlorhydric acid is 17%. In the Chlorhydric acid pool, there is a caldron used for the emission of vapor.
Electro galvanized is a chemical reaction. One chlorhydric acid pool is enough. However, hot-dipped is a physical reaction, it needs two chlorhydric acid pool and two water pool for the preparation of galvanization.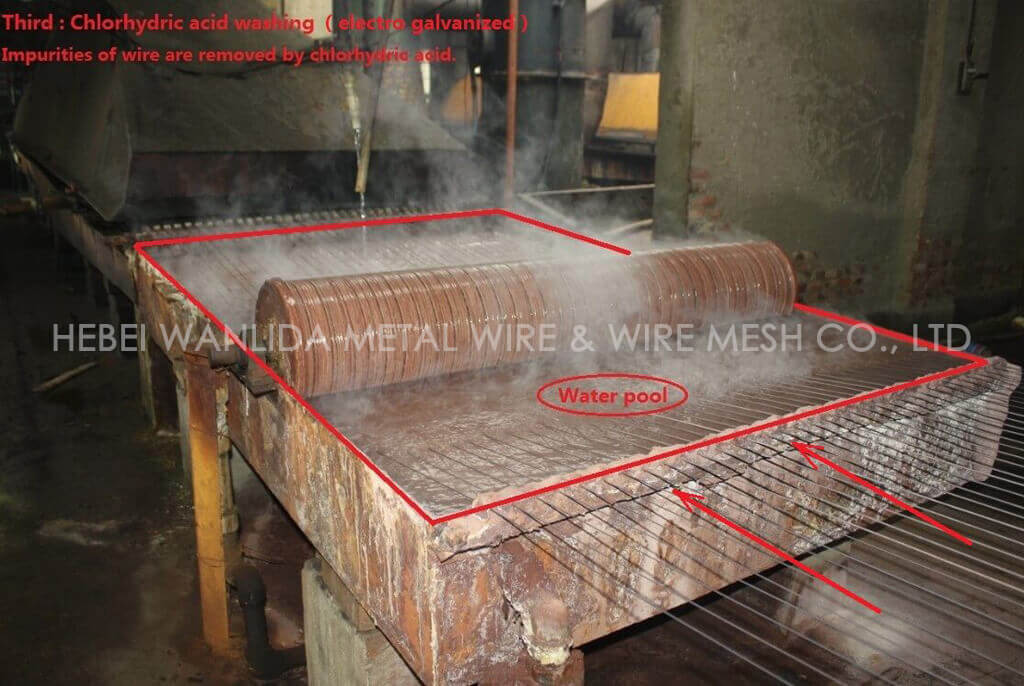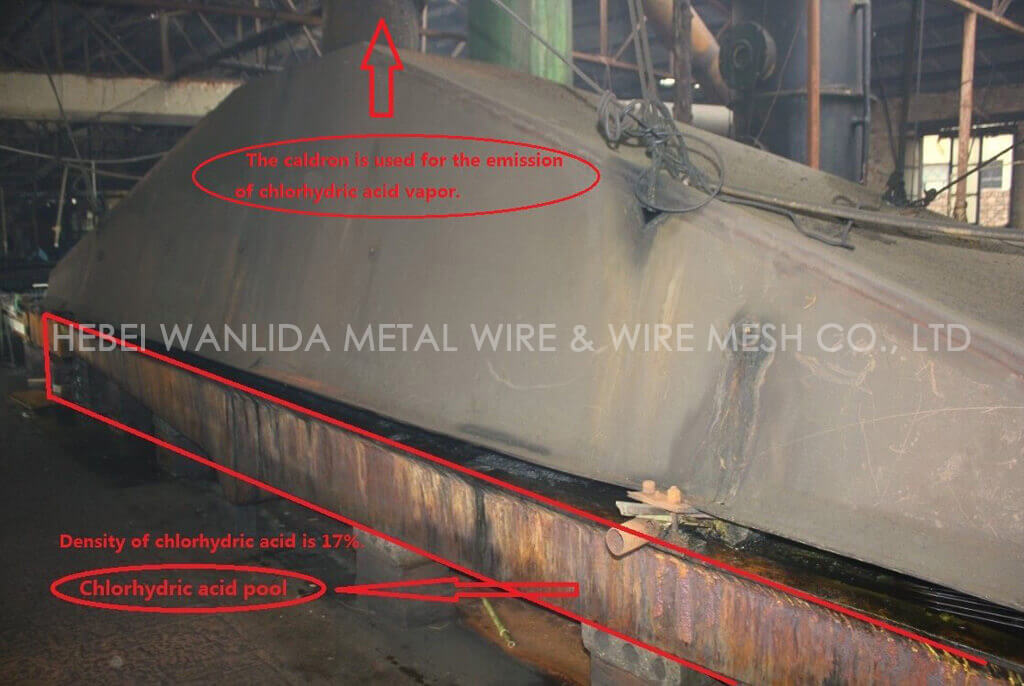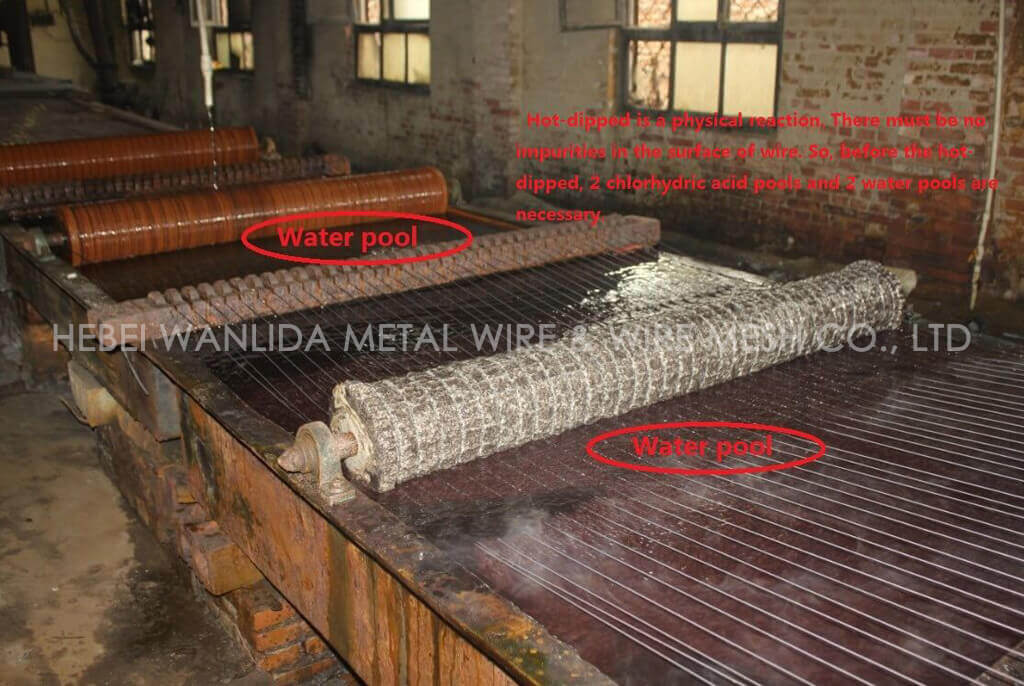 Hot-dipped galvanized is a physical reaction. After the chlorhydric acid pool and water pool, wire need cross the drying panel and then enter the zinc stove. Hot-dip galvanizing is a form of galvanization. It is the process of coating iron, steel, or aluminum with a thin zinc layer, by passing the metal through a molten bath of zinc at a temperature of around 860 °F (460 °C). When exposed to the atmosphere, the pure zinc (Zn) reacts with oxygen (O2) to form zinc oxide (ZnO), which further reacts with carbon dioxide (CO2) to form zinc carbonate(ZnCO3), a usually dull grey, fairly strong material that stops further corrosion in many circumstances, protecting the steel below from the elements.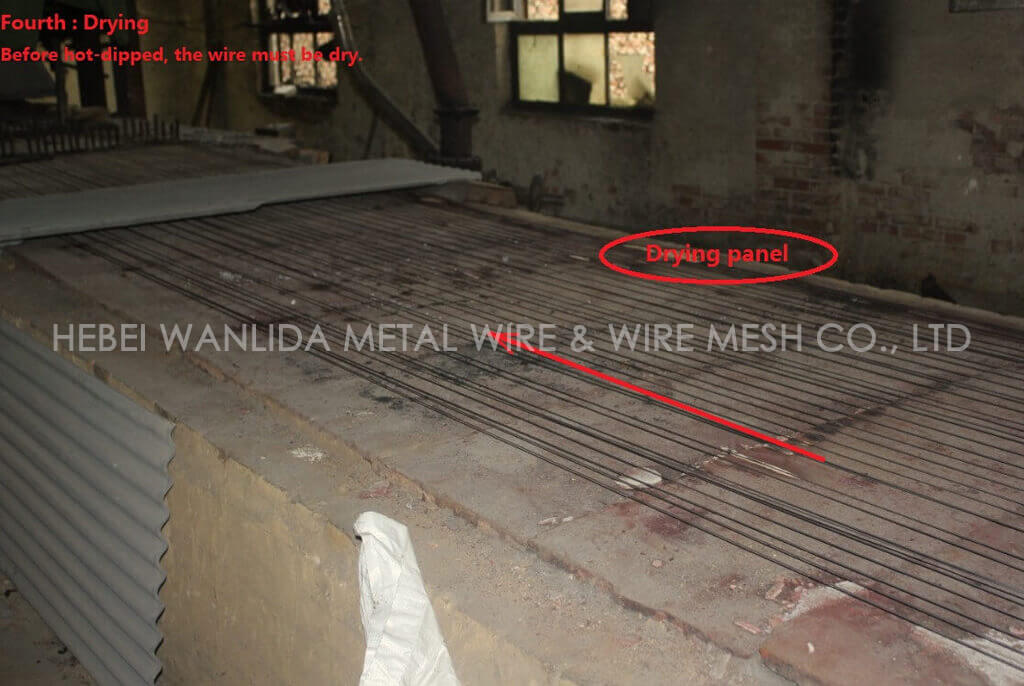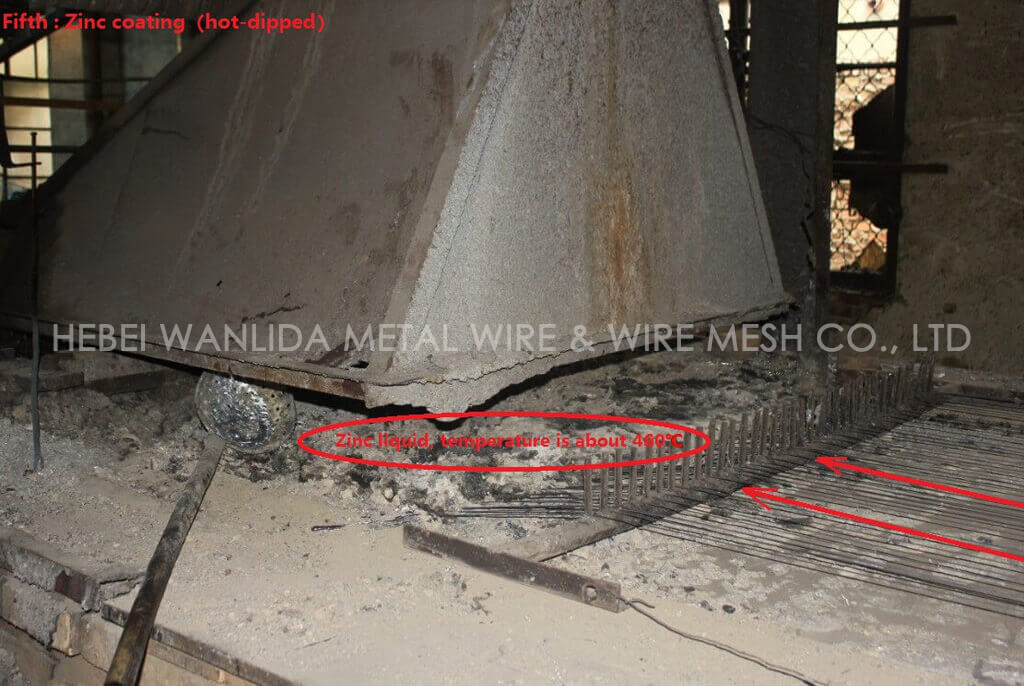 Packing :
Inside plastic film , outside weaving bag . Coil weight 50kg , 100kg , 500 kg or according to you .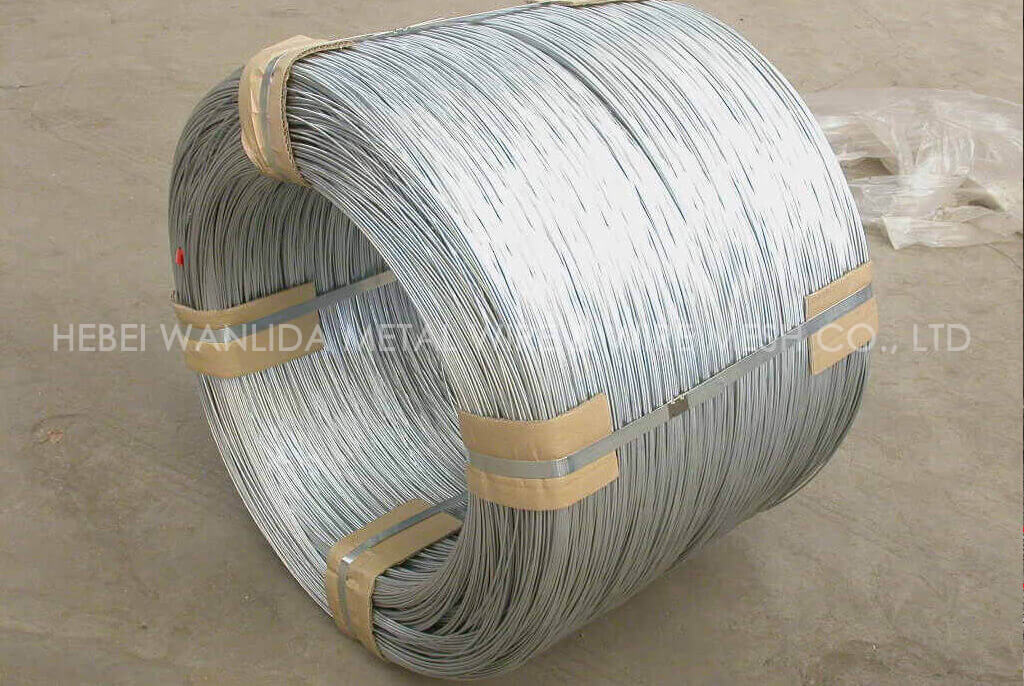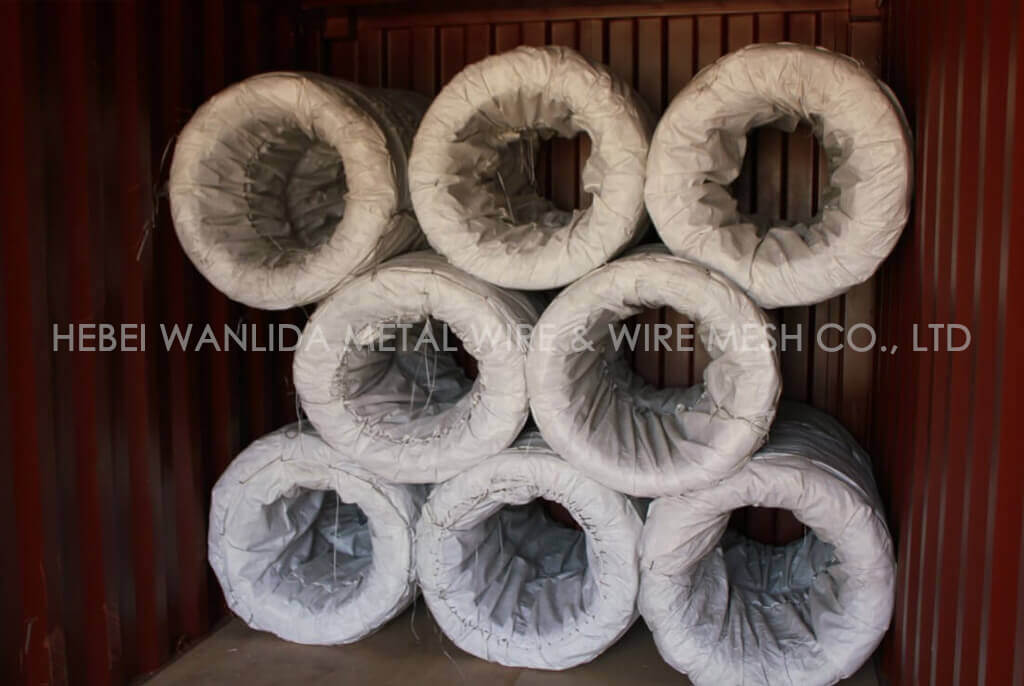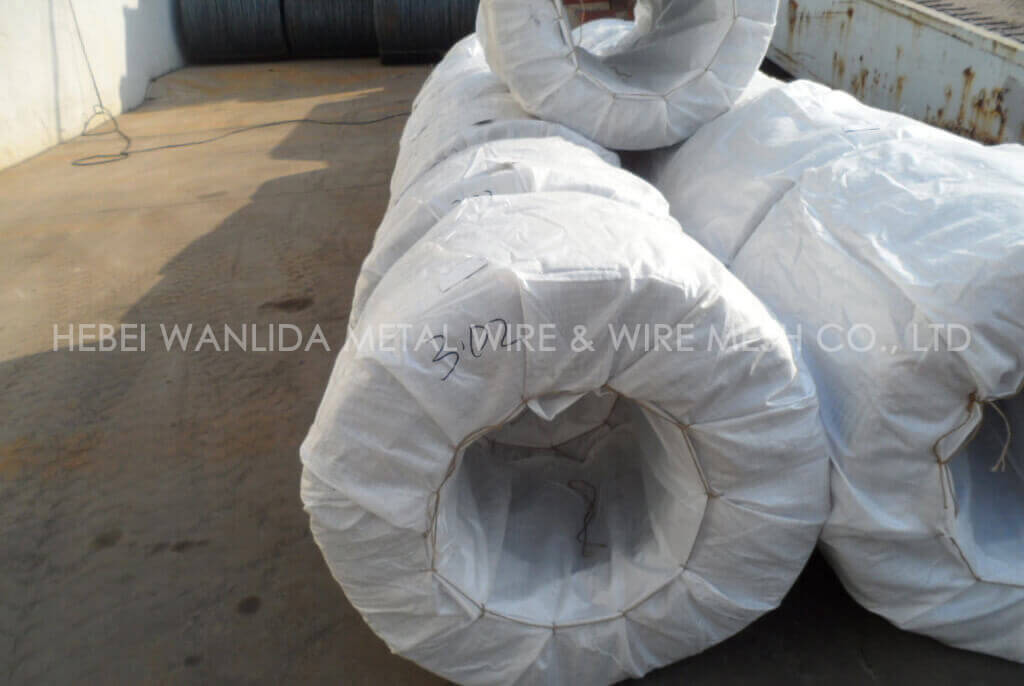 Company information :
" WANLIDA " is professional manufacture of galvanized wire .